Certified ScrumMaster Workshop
Certified ScrumMaster Certification workshop offers in-depth coverage of Scrum framework and its application in the complex environment for product management and product development. Through engaging content and simulations, we cover Agile values, principles, Scrum rules, practices, techniques and practical tools that help Scrum Masters become effective and help the teams benefit from Scrum.
CSM Certification Workshop participants become eligible to appear for the Scrum Alliance's Certified ScrumMaster certification exam and upon passing it, immediately receive the Certified ScrumMaster certification.
Agile For Growth offers 100% satisfaction or money back guarantee. Please see our terms for more information.
Find the list of all upcoming workshops here.
Virtual Certified ScrumMaster (CSM) Workshop Schedule
Certified ScrumMaster Workshop Content
Agile principles and values: Agile values and 12 principles which form the overarching idea of becoming Agile. Group exercise.
Scrum foundation: The three legs of Scrum theory: transparency, inspection and adaptation. Empirical Process Control.
Scrum framework: The roles, Artifacts and Events:
Roles: The Product Owner, Scrum Master, Developers,
Artifacts: Product Backlog, Sprint Backlog and Product Increment,
Scrum Events: Sprint Planning, Daily Scrum, Sprint Review and Sprint Retrospective.
ScrumMaster Role Deep Dive: Group Exercises to explore the ScrumMaster role. Role-Play to address real-world challenges.
Agile Facilitation: Facilitation Techniques and Applications
Scrum Master as a Coach: 7 Coaching Skills a Scrum Master should develop, Coaching Models, Role of a Scrum Master as a Coach
Characteristics of Successful Scrum Implementation
Case Study
Certified ScrumMaster Workshop Agenda
Day 1
Introduction
Empirical Process
Agile Mindset and Manifesto
Building Trust with Scrum Values
Scrum Framework
Scrum Roles – The Scrum Team, Product Owner, Developers, Scrum Master (Group Activity)
Scrum Master Role-Play
Product Backlog
Day 2
Scrum Artifacts contd. – Sprint Backlog and Product Increment
Scrum Events – Sprint Planning, Daily Scrum, Sprint Planning, Sprint Retrospective (Group Activity)
Product Backlog Refinement
Definition of Done
Facilitation Techniques (Recap)
Scrum Master as a Coach
Certification and Next steps
Optional: Deep dive Case Study
Head of Department
Director of Products, Director of Technical Delivery, Director
Delivery Manager
Program Manager
Project Manager
Product Manager
Technical Architect
Technical Lead
Developer
Software Engineer
Business Analyst
Quality Assurance Analyst
Tester
User Experience UX Specialist
DBA
Customer Support
Marketing and Business Development
Finance
Human Resources (HR)
Talent Engagement, Talent Development
Vice President
Preparing for the Certified ScrumMaster Certification Workshop
Would you like to receive some free Scrum reading material? We've got you covered.
We are focused on helping you learn Scrum well, so you can implement it and get full benefits from it. We send you pre-workshop Scrum content so you can start familiarizing yourself with the Scrum Framework.
Let us get you started with learning Scrum. Where should we send you the content? Let us know here
All Certified ScrumMaster Certification courses are taught by Certified Scrum Trainers that are approved by the Scrum Alliance. Taking a Certified ScrumMaster course, passing the online test – by Scrum Alliance, and accepting the license agreement designates you as a Certified ScrumMaster. This certification indicates that you have been introduced to Scrum framework and understand the basic concepts you need to perform as a ScrumMaster or team member on a Scrum team. This training also satisfies two elements of the CSD track: Scrum Introduction and Elective.
Certified ScrumMaster certification Validity:
Certified ScrumMaster Certificate is valid for two years.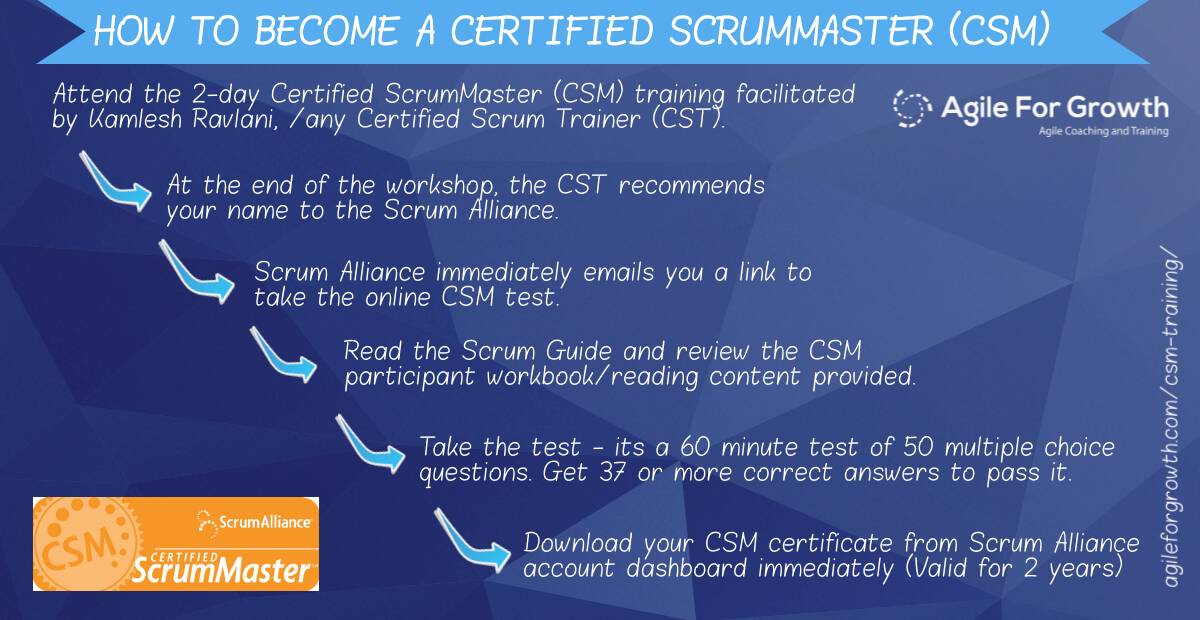 What topics are covered in the Certified ScrumMaster (CSM) Workshop?
Please refer the agenda above to understand the topics covered during the Certified ScrumMaster Workshop. All Certified ScrumMaster Certification Workshops cover the learning objectives as set by Scrum Alliance. Topics not listed here are not covered.
What are the pre-requisites for this Certification workshop?
We recognize that having basic knowledge of the Agile Values and Principles, helps the participants make the best use of the learning time during this workshop.
Upon confirming your registration with Agile For Growth, we email you the pre-workshop Scrum content. This includes useful reading material, short articles, and videos. We highly encourage you to get familiar with the topic before the workshop.
Do I need to prepare anything before attending the Workshop?
Review the pre-workshop content that we email you from info at agileforgrowth dot com.
Plan your workshop days to be distraction free as much as possible to maximize value you get from the workshop.
Think through the practical challenges you would like to address after the workshop. Write them down and bring them to the workshop.
During the workshop, focus on learning the ideas and techniques then the application. Some ideas may be pretty radical for your organization to implement in its current state. Don't worry. Learn about the idea first and then let's discuss how you can benefit from it.
Have enough sleep before the workshop.
Is the Certified ScrumMaster Workshop a classroom workshop? Can I take it online?
The Certified ScrumMaster workshop is a 2-day live-virtual instructor led workshop. It can be attended from the comfort and safety of your home, online via Zoom Meetings App. We share pre-workshop content before the workshop and give you access to bonus content to refer post workshop.
The highly interactive and experiential nature of the Certified ScrumMaster workshop makes it essential for the participant to be actively participating during the workshop, engage in activities and learn with other participants.
It is like playing Football or any Team Sport. Team member(s) can not just be there –  observing, while the rest of the players are contributing. Each member must contribute.
Is there any exam after the workshop?
Yes. After you successfully complete the 2-day workshop, the trainer will recommend your name to Scrum Alliance. Scrum Alliance will email you a link to take an online exam. It is a 60 minute, multiple-choice test comprising of 50 questions. To pass the exam you need to get 37 or more answers right. The participants can take this exam online right after completing the workshop. However, it's not mandatory to take it on the same day, you get 90 days to take the exam.
What is the cost of the Virtual CSM Certification Workshop in USA in 2020?
This rates of public Certified ScrumMaster Certification Workshop are shown to you when you choose a particular date + city of the workshop and click Register. There are also discounts available for those who are unemployed, financially challenged, self-sponsoring and group registrations. We accept all types of cards, Paypal, Zelle – mode of payment.
A weekday, In-house corporate Certified ScrumMaster Certification batch for your organization can be arranged upon request. Please feel free to send us your inquiry and we'll get in touch with our best quote.
Do I need to attend a workshop to take the Exam?
Yes. To be able to take the online Exam, one must attend a 2-day workshop facilitated by a Certified Scrum Trainer.
Who provides this Certified ScrumMaster Certification?
The Certified ScrumMaster Certification is provided by Scrum Alliance. This certification will be valid for two years.
For the convenience of our corporate in-house training clients, we also have alternate options to choose from. However, the decision about certifications must be made before choosing and registering for a workshop.
Who will be the trainer for the Certified ScrumMaster workshop?
The Certified ScrumMaster workshop is facilitated by experienced Certified Scrum Trainer. Based on the city and dates, you can find out the trainer info for each workshop at our Certified Scrum Training Schedule.
How do I renew my Certification?
You can renew your Certification by going to your ScrumAlliance.org account and select Renew. Upon paying $100 your Certification will be renewed for two years.
How many PDUs and SEUs do I earn with this workshop?
Participants who attend full 2-days workshop are eligible for 14 SEUs (Scrum Education Units) good for ScrumAlliance towards renewal of your certification and 14 PDUs (Professional Development Units) good for Project Management Institute (PMI) Project Management Professional (PMP) and other PMI certifications.
Summary
Event Title
​
Live-Virtual Certified ScrumMaster Workshop
Location
Offer Price